ACCESSORIES
AMMUNITION
RELOADING
SIGHTS & MOUNTS
GUNSHOP
15 Cat Hill, East Barnet, Hertfordshire, EN4 8HG
Opening Hours 9:30 to 6:00 Lunch 1:00 till 2:00
Tuesday, Thursday, Friday and Saturday
E-Mail joe@gunshop-eb.com
020 8440 2974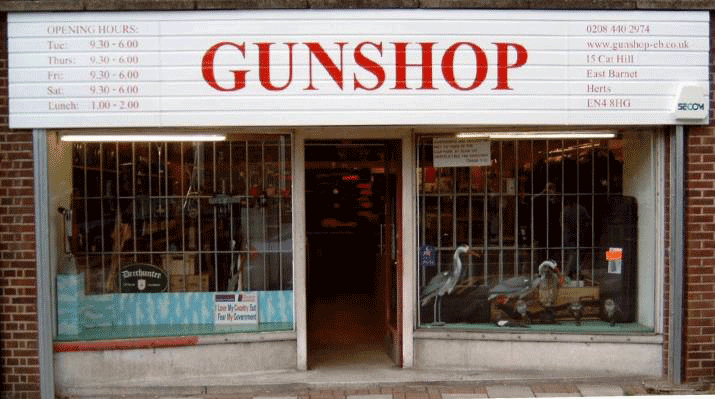 Check out our clearance items on the Auto shotguns page
Who We Are?
Gunshop opened in December 1985, situated in East Barnet we offer a wide range of guns and accessories,
From air rifles to big game rifles, and shotguns from .410" single barrel to 12 bore for game and clay.
Our gun shop also caters for left handed shooters, with a range of left handed firearms and shotguns available.
These are placed within the 'Left Hand Corner' section of our website.

Gunshop also offers second hand guns as well as a new guns and accessories.
Any secondhand gun that we sell we give a 28 day trial period.
If you are unhappy with the gun bring it back for a full refund.
Fair usage applies
@2009 Gunshop: Your one-stop gun shop for guns and accessories.
AIRGUNS
RIFLES
SHOTGUNS
BLACKPOWDER
LEFT HAND CORNER
LONG BARRELED PISTOLS